Southwest Austin
Live in the heart of Austin's up and coming annex
Located minutes from downtown, Southwest Austin has become one of the fastest growing areas of Austin for a multitude of reasons. Parks crisscrossed with jogging and biking trails, Grey Rock golf course, soccer fields, Frisbee golf, not to mention shopping and delicious restaurants to name a few. Traditional home styles and sizes abound, but growing neighborhoods offer luxury homes on large lots if that is your cup of tea. Children in this area attend the Austin Independent school district including the award winning James Bowie High School. If you want to get out of the hustle and bustle of Central Austin, Southwest Austin may be the perfect fit for you.
Bowie High School is the largest high school in the Austin ISD. Serving over 3,000 students, Bowie is a previously "exemplary" rated school with a lot of diverse extracurricular programs, including the Bowie High School Band Program, the Starlight Theater Program, and an outstanding athletics program. In terms of academics, Bowie High is ranked better than 95% of other Texas high schools in test scores with a student to teacher ratio of 17:1. Parents like Bowie High School because of the quality of education and the affordability of the adjacent neighborhoods.
Circle C Ranch is a gorgeous master-planned community located in Southwest Austin. With a mix of traditional and ranch-style architecture, you can find everything from modest 3-bedroom builds and gated mansion luxury. Homes in the area are priced slightly higher than most Austin neighborhoods with a median price in $500s. People like living in Circle C because of the quiet, tree lined neighborhoods located nearby a host of natural amenities, community parks, and golf courses.
Deer Haven is located a mere 15 minutes from Downtown Austin in a small subdivision of David Weekley Homes constructed in the early 2000s. Ranging in the $200s and $300s, Deer Haven homeowners enjoy quiet streets located nearby a natural preserve. As for neighborhood amenities, Deer Haven is located close to great shopping, dining, recreation, entertainment (like the new Alamo Drafthouse) and more. Because it is such a small subdivision, active listings are few and far between. Be sure to contact Juanita to inquire when new homes are going on the market.
Brodie and Brodie Springs
Located off of Brodie Lane near the intersection of Slaughter Lane, the Brodie Springs subdivision is comprised of a range of Taylor Morrison-built homes constructed around 2006. The architecture of homes in the area is diverse with some traditional style builds combined with more modern builds indicative of ranch and contemporary design aesthetics. With numerous nearby greenbelts and hike and bike trails, Brodie Springs residents enjoy ample natural attractions even though they're right next to the dining and entertainment options on Brodie Lane.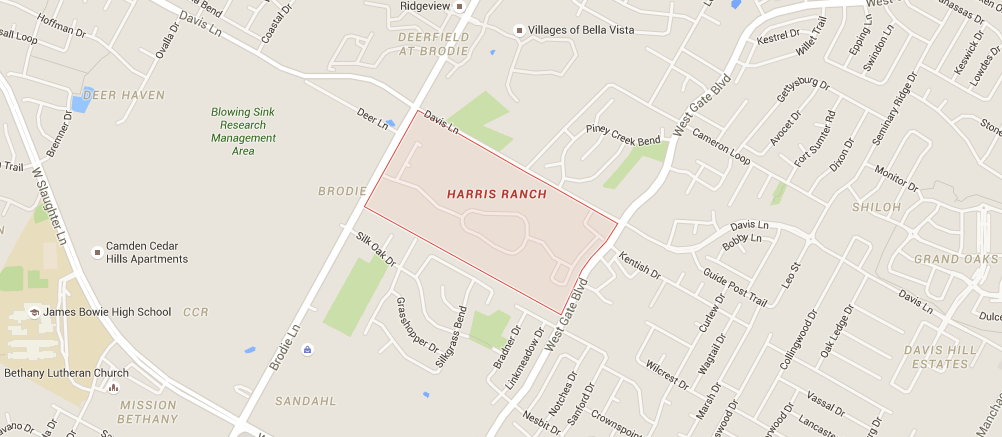 Harris Ranch is a master-planned community located between Brodie Lane and West Gate Blvd. It's design is unique in that one road leads in and out of a large circle of homes. With a community pool and ample natural open spaces nearby, it offers a solitude that most of the Southwest Austin neighborhoods can't. Homes in the area are comparably priced with the surrounding real estate anywhere from the 200s to the 500s.
Located nearby the Circle C subdivision, Escarpment Village is a diverse neighborhood of Southwest Austin featuring homes in range of styles and prices. The area itself constitutes the homes that lie south of Davis Land, north of Slaughter, and west to east from Circle C to Highway 1/Mopac. Because of its proximity to Circle C, many of the homes in the area are comparably priced, ranging in the 300s to the 500s. Area amenities include an H-E-B, public library, an Alamo Drafthouse, Satellite Bistro, Waterloo Icehouse, and close proximity to both Dick Nichols Park and the Circle C Ranch Metropolitan Park.
Additional Communities
Circle C Ranch, Shady Hollow, Village at Western Oaks, Legend Oaks, Travis Country, Western Oaks, Meridian, Avana, Bridges of Bear Creek, Barker Ranch at Shady Hollow, Rancho Alto, Southland Oaks, Bauerle Ranch, Sendera, Brodie Springs, Sunset Valley, High Pointe, Sendera South, Beckett Meadows, La Cresada at Western Oaks
About
Bowie High School serves a multitude of neighborhoods in Southwest Austin, including Brodie Springs, Escarpment, Circle C Ranch and more.