Neighborhoods of Buda
Ruby Ranch, Elliott Ranch, Hays Country Oaks, and more
Buda's neighborhoods feature a wide variety of home styles, price points, attractions and more. Depending on the neighborhood of your choice, you'll have close access to various attractions, shopping, parks, schools and more. Check out the neighborhoods below to see which appeals to you.
Ruby Ranch is a master planned community located about 12 minutes west of Downtown Buda along Ruby Ranch Road. The neighborhood itself features several ranch-style builds, some of which site upon some serious acreage. Home styles typically feature exposed brick exteriors, up to date amenities, manicured lawns, and either shingle or tin roofs. On average, homes in Ruby Ranch range anywhere from $500k up into the millions. Because it is a small and relatively sought-after community, active listings are usually limited – only a few at a time. Within a year, around 15 are sold with an average time on market of about 45 days. With an active and highly regulatory HOA, your quality of life in Ruby Ranch is guaranteed.
Elliott Ranch is a small community nestled around a series of curving streets and cul-de-sacs in Northwest Buda denoted by a grand iron entrance. Located approximately 15 minutes from Buda's historic downtown, homes in Elliott Ranch are one and two-story master planned community homes, often with ranch-style accoutrements like exposed white brick on the exterior, large floor plans, and more. Elliott Ranch. Located close to Dahlstrom Middle School and Carpenter Hill Elementary, there are a lot of families located in the Elliott Ranch subdivision.
Located just to the west of Elliot Ranch, Hays Country Oaks is a subdivision that is a little bit more "rural" in tone than Elliot Ranch, featuring single and two-story homes that often site on 2+ acre sites. For those interested in getting a little bit more country in their lives, Hays Country Oaks is the perfect place to find your slice of Central Texas Hill Country. Located along the major thoroughfares of Live Oak Loop, Oak Grove Road, Arbor Trail, and Red Oak Street, Hays Country Oaks has limited available properties at any given time, so be sure to get in touch with Juanita for information of when homes come on the market.
Located west of Buda, TX and south of Hays, TX, the Oak Forest neighborhood is a luxury neighborhood dissected by the major thoroughfares of FM 967, Oak Forest Cove, and Oak Forest Drive. With one and two-story ranch style homes on plenty of acreage (and no sidewalks), Oak Forest residents truly get their own slice of pastoral paradise. For its amenities, the Oak Forest neighborhood is affordably priced with homes in the range of $200k – $700k.
The Coves of Cimarron is a beautiful subdivision located northwest of historic downtown Buda. As a planned and regulated community, homes for sale in the Coves of Cimarron featured finely landscaped lawns along manicured streets. Home styles are generally single story, ranch homes that range anywhere from 3 – 4 bedrooms and priced in the $200s.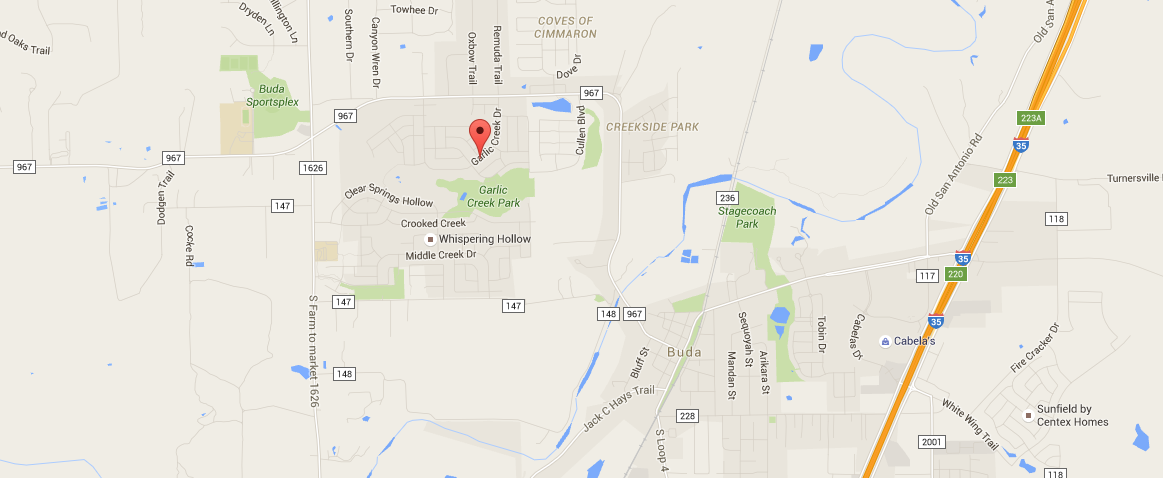 Garlic Creek is a prominent, centrally-located neighborhood in Buda. Situated around Garlic Creek Park – a 31 acre park with a playground, picnic tables, basketball courts, and a hike/bike trail – the Garlic Creek neighborhood is master-planned community with great access to open space, major Buda thoroughfares, the Garlic Creek Center community pool. With most of the subdivision being built in 2007, Garlic Creek homes are well-appointed with new fixtures usually ranging in the $200k to $300k price range.
Located south of Garlic Creek Park right next to the subdivision of Garlic Creek, Whispering Hollow is a small subdivision intersected by Middle Creek Drive, Old Black Colony Road, and Bayou Bend Drive. Located next to the Whispering Hollow Park and Elm Grove Elementary School, Whispering Hollow is a great place for families and young professionals. Similar to Garlic Creek, Whispering Hollow is master-planned community with one to two story builds usually ranging in the $300k.
Additional Communities
Buda features several other great communities for you to call home Cullen Country, Leisurewoods, Shadow Creek, Stonefield, Stoneridge, Meadow Park, Sunfield
About
Buda's various neighborhoods feature a wide variety of home styles, prices, and amenities. Get a feel for some of Buda's more prominent neighborhoods on this page.